Digital Marketing Course Overview
This Digital Marketing Course will make you aware of every aspect of digital marketing and transform you into a professional digital marketer. Our digital marketing course covers both basic and advanced fundamentals. So, if you are a complete beginner, you will learn all forms of digital marketing strategies and their implications and become a professional digital marketer.
If you already have some knowledge related to digital marketing. In that case, your basics will be sharpened, and you will gain new and advanced skills to survive in this rapidly changing environment. At GrowIT Academy, we cover multiple things in our digital marketing course, like Google Ads, Paid Ads, Search Engine Optimization, Social Media Marketing, Content Marketing, YouTube Marketing, Email Marketing, and more.
You will also get a chance to work on live projects and gain practical knowledge by implementing your learnings in the digital marketing course. It will boost your confidence and present a real-life picture in front of you, which will be helpful in the preparation of future endeavors and learning how to deal with clients. In-depth learning, on-course training, and work on real-life projects make our Digital Marketing course the best in Ahmedabad.
Who Should Enroll In This Course?​
GrowIT Academy's Digital Marketing course in Ahmedabad is designed for those who want to ace Digital Marketing and become professional Digital Marketers. You will learn all Digital Marketing techniques and relevant tools and simultaneously practice your skills on live projects.  Our Digital Marketing course in Ahmedabad will be helpful for: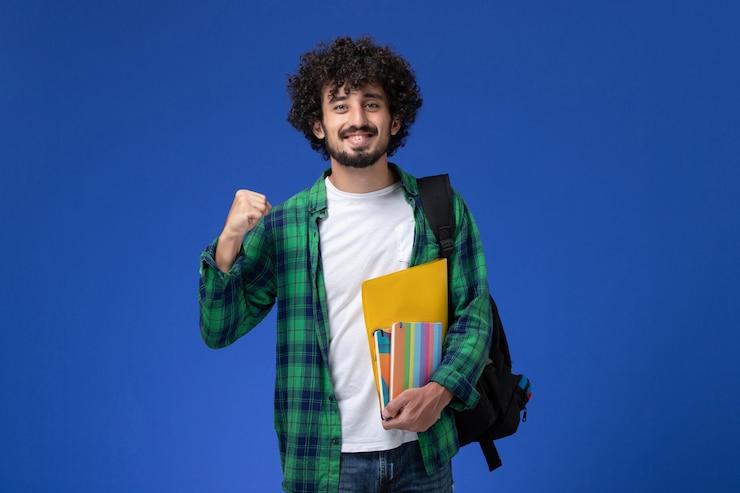 Students can join our Digital Marketing course, prepare themselves for future endeavors, and fulfill their dream of becoming professional Digital Marketers. Our course is ideal for all beginners as we start from scratch and gradually up the level to advance.
At GrowIT Academy, your three months of Digital Marketing course in Ahmedabad will equal 3 months of course learning and 3 months of working experience as you will work on live projects with digital marketing experts.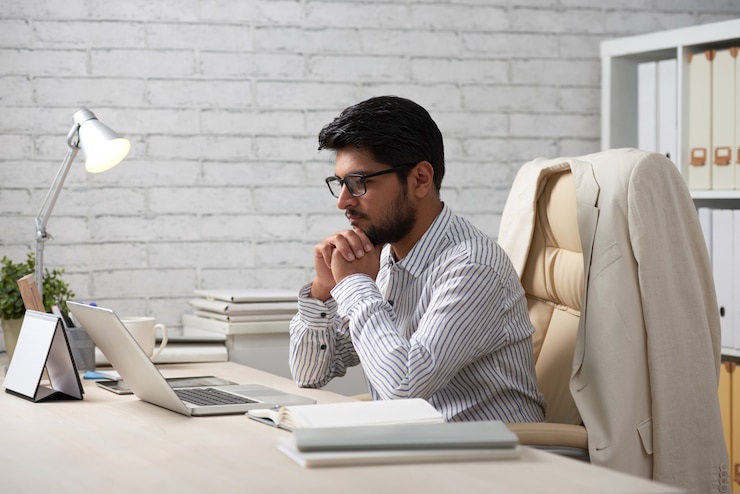 Entrepreneurship is a 24/7 job, and multiple skills are required to do this job. As digitalization is becoming common, the skill set needed to become a successful entrepreneur is also changing.
You need Digital Marketing skills to excel in your entrepreneurship journey and sustain in this cut-throat competitive environment. Our Digital Marketing course in Ahmedabad will help you to learn relevant Digital Marketing skills to accelerate your entrepreneurship journey.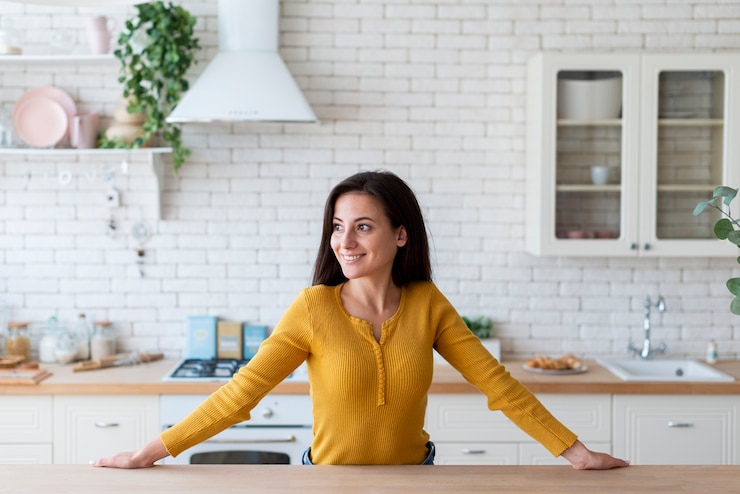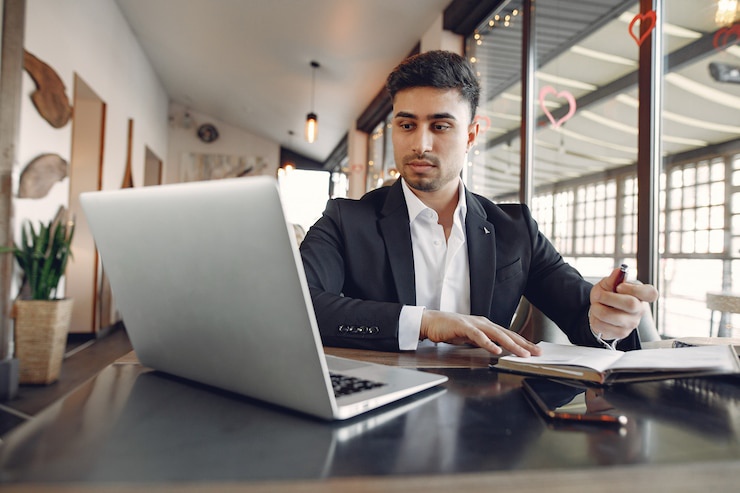 By joining our Digital Marketing course in Ahmedabad, housewives can comfortably learn Digital Marketing skills and work as Digital Marketing experts to achieve financial freedom.
We have flexible timings and maintain a safe and fun environment so every Housewife can learn Digital Marketing skills comfortably.
Working Professionals follow a tight schedule and work in a hectic and fast-changing environment. It is essential for them to upskill themselves to save their job and grow in their careers.
At GrowIT Academy, Working Professionals can accelerate their career growth by learning about trending Digital Marketing skills and improving their market worth.
Digital Marketing is one of the best career options of today's time as most businesses are going online and looking for someone who can market them and help them bring their target audience onto their platform to convert them into customers.
Our Digital Marketing course in Ahmedabad ensures you get the proper skill set and attitude to get work done in the right manner. At GrowIT Academy, we design our Digital Marketing course in Ahmedabad with the following specialties:
Using Digital Marketing tools and deriving desired results from them is a task in itself. There are plenty of Digital Marketing tools available on the internet. It is the job of a Digital Marketer to carefully select a suitable tool that provides accurate results and helps them to complete the task in less time.
At GrowIT Academy, You will practice multiple Digital Marketing tools and take the on-hand experience of using them.  It will teach you how to effectively use premium Digital Marketing tools to derive the most efficient results in minimal time.
Digital Marketing Course Curriculum
Our Digital Marketing course is designed by Digital Marketing experts with over 2 decades of experience in the Digital Marketing industry. 
While designing the Digital Marketing course curriculum, we ensure it meets the current industry standards and includes all relevant skills to ace as a Digital Marketer.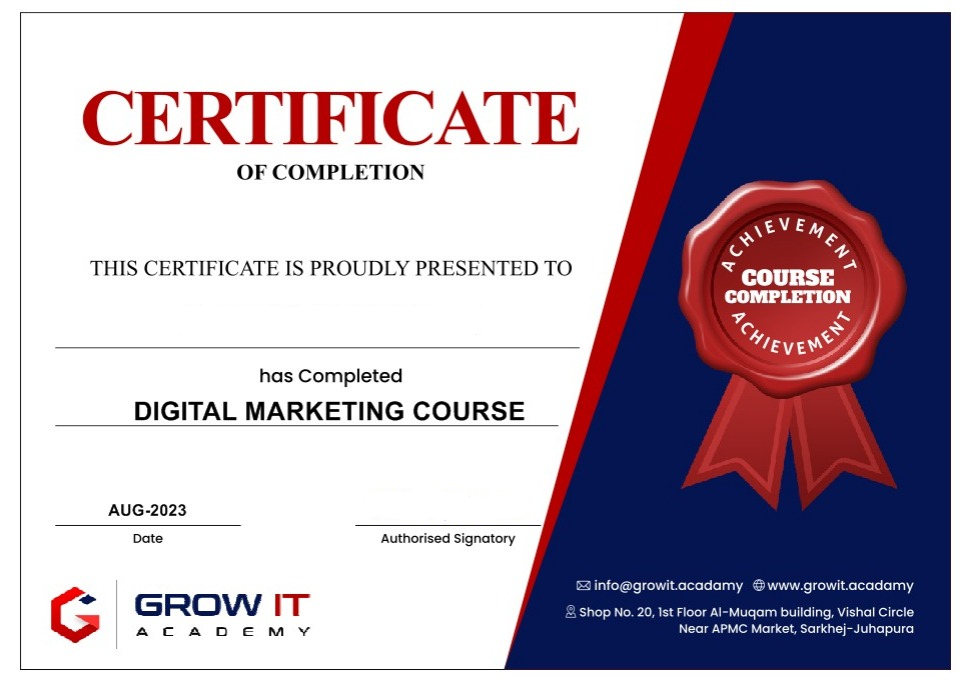 My experience of completing a Digital Marketing course was phenomenal. It is the best Digital Marketing course in Ahmedabad. You will learn from highly-experienced faculty, and the classroom's environment is very supportive, which makes you feel comfortable.
I was confused about whether to join GrowIT Academy to learn Digital Marketing or not. So, I decided to attend their demo class to make a wise decision. I was highly impressed with the teaching method of Juned and Salman, sir. And, then I decided to join this academy, and now I am a professional Digital Marketer and successfully pursuing my dream career.
It was one of my life's best decisions to learn Digital Marketing from GrowIT Academy. All teaching faculties are amazing, but my favorite was Juned sir because his teaching techniques and friendly nature made it easy for me to excel in this course and become a professional Digital Marketer.
frequently asked questions
Is this Digital Marketing course hard for beginners?
No, beginners need the proper guidance to excel in every course. At GrowIT Academy, we designed our curriculum by including basic to advanced learning in the most systematic way to make it easy for all people to gain Digital Marketing skills.
What is the fee for the Digital Marketing course?
The course fee is ₹ 15,000.
What is the time duration and mode of study for the Digital Marketing course?
Our Digital Marketing course in Ahmedabad is 3 months long and the mode of study is offline.
Is it a wise decision to choose Digital Marketing as a career?
Yes, Digital Marketing is one of the fastest-growing careers. Everything is moving toward digitization, and technology is being infused in every sector. So, the Digital marketer's role becomes crucial in most businesses success.